About
Recent clinical studies (randomized, double-blind and placebo-controlled) have conclusively proven that WaitButWhy readers are all awesome. It was only a matter of time before this like-minded swarm started clustering, connecting and a collective consciousness emerged.
We are now a striving community that fights for awesomeness and for making this universe a better place.
History
It all started with WaitButHi, way back in August 2016. The actual WaitButWhy crew were the first to discover that their readers are awesome and that they should connect. They took on the endeavor to organize customized events for everyone who signs up. Unexpectedly, coordinating a godzillion people was too much to handle for a hand full of WBW crew. Fortunately! Because they decided to set up continent-wide chat rooms on Discord for people who signed up but were not lucky enough to be among the 3,782 who took part in one of the 414 planned events.
While the boring continents actually used their chat for organization, Europe abused its for super interesting discussions, bonding and procrastination. We decided to invite the rest of the world to a world-wide chat: WBH Pangea.
One lunatic there had the ridiculous idea that there should be a Europe-wide WaitButHi-like event, so that's what happened. Three of us decided to organize it. After countless surveys, thousands of sign-up forms, innumerous update mails and millions of hairs turning gray, about 30 of us met in Cluj-Napoca, Romania. And it was effin' fantastic, thanks for asking. See here for more details.
Anyway, we tasted blood. Those meet ups have to become at least an annual thing, there is just no way around it. We decided that we need a platform for better organization. Fun fact: You are right in this very moment looking at it.
The Orga Crew
Here we are, feeding our IGMs in the darkest of playgrounds: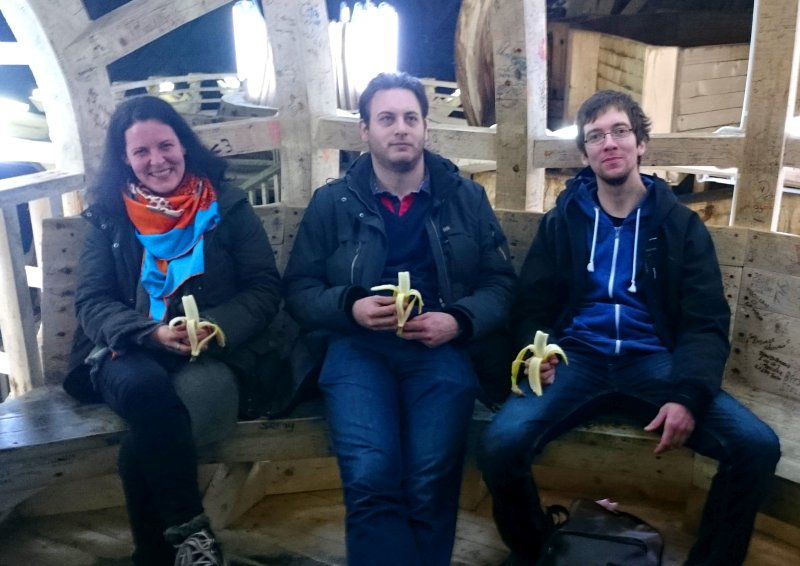 From center to right to left:
Tiemen Joustra from Utrecht, Netherlands < tiemen(♠)generation-why.eu >
• Idea
• Organizing things
• Public announcements during meetings
Mirko Kunze from Berlin, Germany < mirko(♠)generation-why.eu >
• Spam
• Organizing things
• Website
Cristina Costea from Sibiu, Romania < cristina(♠)generation-why.eu >
• Actual organization
• Pulling strings from the background during meetings